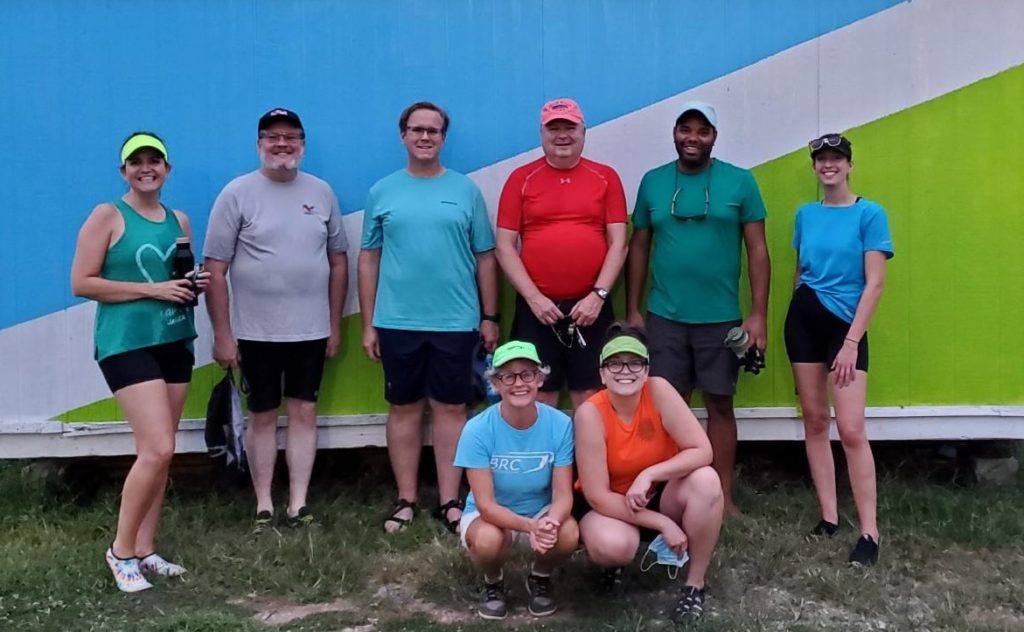 The Masters Green group is appropriate for recent Learn to Scull or Learn to Sweep rowers, as well as anyone with previous rowing experience who would like to refine their technique and increase fitness in a structured, coached environment. This coached program meets two evenings a week (Monday and Thursday and then shift to Saturday and Sunday). Rowers have the opportunity to practice both types of rowing (sweeping and sculling). Mondays focus on sweep and Thursdays on sculling. Some Green rowers may choose to compete in regattas, but the focus is on technique and fitness. Masters Green can also row outside of structured practices as long as they abide by the Independent Rowing guidelines and requirements.
New rowers are welcome to join the team at any point during the season!
---
2022 Masters Green Class Details
Class

Days

Times

Cost

Fall Scull/Sweep
September 8 – October 22
M/Th
6:00p – 8:00p
$315
October 23 – November 13
Sa
Su
7:00a – 9:30a
8:00a – 10:30a
2 rowers must register for each class to run. If fewer register, athletes can continue rowing on our Masters Blue Team (with head coach approval) or through Private Lessons.
---
2022 Masters Green Practice Schedule
Sunday

Monday

Tuesday

Wednesday

Thursday

Friday

Saturday

Practice Week
Sept 8 – Oct 22
6:00p – 8:00p
Water


6:00p – 8:00p
Water
Oct 23 – Nov 13
8:00a – 10:30a
Water
7:00a – 9:30a
Water
---
2022 Masters Green Registration
Rowers interested in joining our Masters Green team who have not already participated in one of our Learn to Row programs may request an exception using our contact form.
Current rowers should log into iCrew, Go to "My Teams", "Join or Leave Team" and select your new team, or ask your coach.
BRC uses the iCrew team management platform to manage registrations, process payments, and obtain all required documentation. Upon your first login you will be required to create a profile before you can register for any BRC programming. Once registered and prior to your first practice you will need to e-sign the Participation Agreement, Code of Conduct and USRowing waiver located in the "My Documents" section of your iCrew account.
---
2022 Fall Regatta Schedule
High Point Autumn Rowing Festival
October 15, 2022
October 16, 2022
2022 Spring Regatta Schedule
Clemson Sprints Collegiate and Masters – Results Here